CURRENT PLAYERS
Summer league players – to view updated standings, rosters, and schedules visit our:
2017 Summer league standings, rules & schedule sheet
The Tuesday night Summer league runs from July 18th until September 5th
Please send any suggestions, questions, or concerns for the 2017 Summer Archery league to:
LABOR DAY WEEKEND TOURNAMENT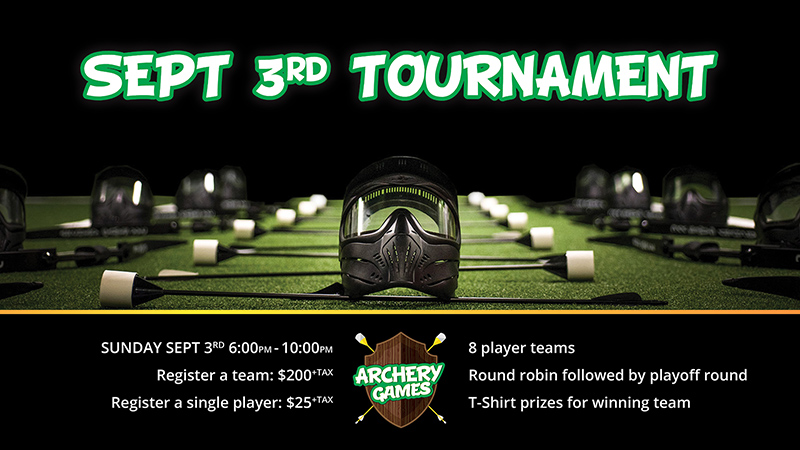 FALL LEAGUE
NOW OPEN FOR REGISTRATION
EARLY BIRD PRICING ENDS SEPTEMBER 11th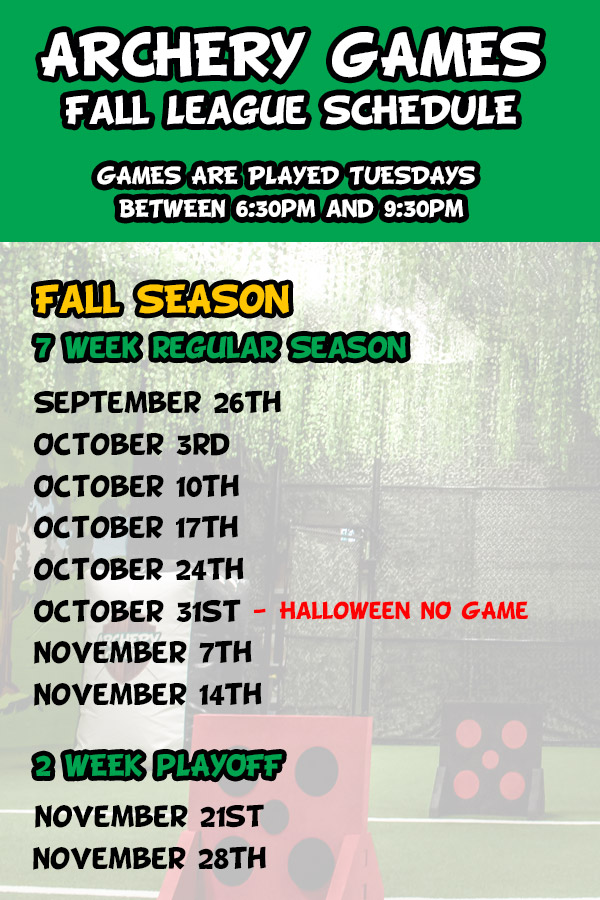 GENERAL LEAGUE INFORMATION
TIERED PRICING
Early registrations are win-win with Archery Games. Teams are rewarded for registering early and early registrations allows us to better plan the schedules and league giving our customers the best possible service.
EARLY BIRD PRICING (August 15th – September 11th):
Team registration: $760+GST
Individual registration: $80+GST
REGULAR PRICING (September 12th – September 20th):
Team registration: $960+GST
Individual registration: $100+GST
LEAGUE FORMAT
Matches are run as a first to 5 victories format (best of 9). After the match there will be a dog-eat-dog round that goes towards the individual standings for the season. If time permits the Archery Games referee will run exhibition games after the league match.
Games are 8 players vs. 8 players on the field (teams of 10 players are recommended so that you have subs available). Each team must have a minimum of 2 female players on the field during gameplay.
ADDITIONAL LEAGUE PERKS
League players will receive a $10 discount towards any regular Archery Games booking with their league card (40% discount) for the duration of the season as well as access to special discounts on all archery equipment!