Archery Games Calgary will be closing after October 17th 2021
Due to the ongoing Covid-19 pandemic we are no longer able to continue operating our indoor Archery Games facility. Thank you for your support over the years and we hope to continue running archery events in the future.
Our partner Axe throwing business Axe Games will be remaining open and any outstanding Archery Games gift cards will be redeemable at Axe Games if you are unable to redeem prior to October 17th.
ARCHERY GAMES CALGARY
CALGARY'S COMBAT ARCHERY ARENA
2 BOOKING OPTIONS
SAME LOW PRICE: $25 / Person
1 Hour Private Game ($25/pp)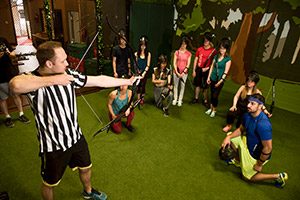 Minimum 4 players
Play a variety of games
Includes training & equipment
Dedicated referee for your group
Ages 8+
Book a Private Game
2 Hour Drop-In Game ($25/pp)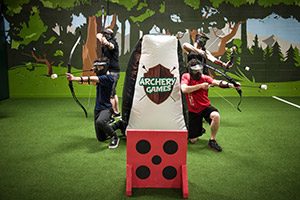 Play with other players
Teams assigned randomly
More competitive gameplay
Recommended for experienced players
Ages 16+
Tuesday & Sunday Evenings
WHAT IS ARCHERY GAMES?
Archery Games Calgary is the action-packed combat archery experience that is fun for ages 8 and up.
Combat archery is a combination of dodge-ball & archery that will get your heart racing! The ultimate objective of the game is for one team to tag all of the opposing players with foam-tipped arrows.
Archery Games is an fast paced action packed game, but fear not, no experience is necessary and our games are designed with an overall fun player experience as our number 1 priority!
All games are officiated by an Archery Games referee who can run a variety of different game-modes for your group.

20 PERSON ARCHERY ARENA
Our facility is a premium indoor combat archery arena, and we can accommodate up to 16 players in a single game. Archery Games Calgary is equipped with a practice range, obstacles, AstroTurf, music and referees.

A VARIETY OF ARCHERY GAMES
At Archery Games Calgary we focus on creating a fun and immersive experience for our players. This means that during your group's game time, you will play up to 8 different game modes.
ARCHERY GAME MODES
Every Archery Games booking will include a variety of different combat archery game-modes. Click on the images below to get information on how that game is played.
Add-on Axe Throwing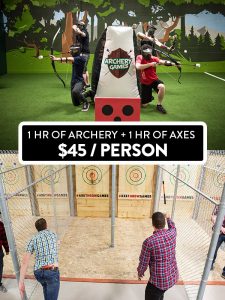 Add on an hour of axe throwing for $20 / pp
Save $5 per person!
Book 1 hour of Axes & Archery
Buy 3 Get 1 Free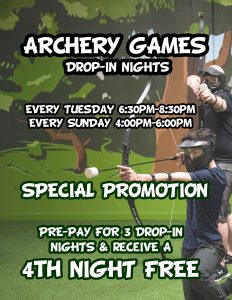 $75 for 4 public drop-in sessions
Must be used by same person
View Promotion
THE REVIEWS ARE IN!
WHAT ARE PEOPLE SAYING ABOUT ARCHERY GAMES CALGARY?
Robin Hood. Katniss Everdeen from Hunger Games. Legolas from Lord of the Rings. They're some of literature's most well known archers, and now, Calgarians can channel their spirits at Archery Games, Calgary's new archery tag arena.
ALANA WILLERTON
My initial concerns were laid to rest pretty quickly; getting hit is not painful, the bows are easy to use...and minimal experience in archery is required to enjoy this... even the 8 year old playing with us was able to get a decent draw and be competitive.
Steven B.
Truth be told, I was hit more than I actually hit anyone else, but even still, the game was still ridiculously thrilling...it's exhilarating to take a risk, stare and archer down, and dodge a volley of shots until you can pull your own off.
Aaron Chatha