GENERAL INFORMATION
What is Archery Games?
Archery Games is like dodgeball, but with bows and arrows! We use foam tipped arrows in a game that pits one team against the other. We will run a variety of different game modes in all of our sessions, for more information check-out our: Archery game-modes page.
Is it safe to play?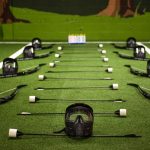 Yes, absolutely. You will be provided a mask, arm guards, and our arrow shafts come with 2″ diameter foam heads attached. At Archery Games we utilize bows that have a maximum draw weight of 30 lbs and outside bows are strictly prohibited from entering the arena.
Do I need experience to play?
No previous experience is required to play archery tag. You will be provided basic training and sufficient time to practice before your game.
Are there age restrictions?
Players must be at least 12 years of age for regular play. For younger children aged 7 to 11 we have youth hours available on Saturday at 10am and 11am and on Sundays at Noon.
Note: If parents want to play along with their children during our youth hour time slot they are permitted to do so (at the same cost of $19.95/pp), but must use the youth bows.
I'm pregnant, can I play?
Archery Games arrows can hit with a significant amount of force. Please consult with your health care provider prior to playing combat archery at any stage of pregnancy.
Do you have lockers at the facility?
Yes we have lockers available at the facility. Bring your own lock for the lockers or rent one from the archery games staff for the cost of $1.00.
EQUIPMENT INFORMATION
Are the masks disinfected?
Yes, we clean and disinfect the masks with hospital grade cleaner after each session and we never use the same masks in back to back games.
What should I wear or bring?
Comfortable clothing you can move in

Athletic or flat footwear (all footwear must be close-toed, playing with sandals or going barefoot is not allowed at the Archery Games facility)

Completed waiver form (or leave time to fill one out when you arrive)

Government issued I.D.

If you own a paintball mask and/or armguard – feel free to bring and use your own – we do not allow outside bows or arrows in our archery arena.
Can I bring my own equipment?
If you own a paintball mask and/or armguard – feel free to bring and use your own! We do not allow outside bows and obviously no outside arrows – the ones we supply are made with your safety in mind.
Can I bring my own camera or GoPro?
Yes, we have a GoPro holder in the arena and a holder on one of our bows. GoPros are used at the participants own risk and Archery Games Calgary will not be held liable for any damaged or stolen personal items from the arena.
BOOKING INFORMATION
How long is an Archery Games booking?
Each game booking is for an hour of game-play. In additional to this our staff will conduct a brief training & practice session prior to the start of your game.
Do you allow walk-ins?
We allow walk-ins (subject to availability). To guarantee a spot please call ahead: (587) 387-2799 or Book Online as we may not have availability if the arena is booked to capacity.
Is there a minimum number needed to play?
Archery Games bookings can be created for anywhere between 1 and 20 archers, however the game will only run if there are at least 6 archers booked in any given time-slot.
We will contact the booking organizer 3 hours prior to the event if the booked time-slot doesn't have a sufficient amount of players and attempt to reschedule the booking to the nearest time-slot that does have the minimum amount of 6 players.
Can I book a private game for my group?
Yes you can! During regular business hours we offer a group rate of $399 + GST per hour that accommodates a maximum of 20 players in the arena at one time. For groups larger than 20 players please contact us or check out our private tournament option for up to 40 players.
To book a private session yourself – select "book entire Archery game (private event)" on our online booking page.
For private bookings outside of our regular business hours, private games longer than 1 hour or other special accommodations for your private event please contact us directly at (587) 387-2799 or at: bookings@archerygamescalgary.ca. The archery arena can be rented for additional hours past the 1st hour a rate of $299+GST/hour.
What forms of payment do you accept?
We accept Visa, Mastercard, or Visa debit through our online booking system.
In store we accept the above credit cards, as well as, debit and cash.
If you would like to pay by cheque for a private event please arrange to do so by contacting our customer service team at: 587-387-2799 or bookings@archerygamescalgary.ca
What is the cancellation policy?
We require 48 hours notice for cancellations, cancellations made more than 48 hours from your event will be refunded in full.
If you need to make a short notice cancellation within the 48 hour window of your booked time, we will not provide a refund, but will provide you with 100% of the booking cost in the form of a store credit.
You will be able to use the store credit to re-book your archery game for a different date or time.
FACILITY INFORMATION
Is there parking?
Yes, our facility has free parking available in the complex.
Can we bring in food or drink?
Yes, our lobby has seating and you are permitted to bring in food and non-alcoholic beverages for consumption after your Archery Games booking.
PLEASE NOTE: during our peak hours we can only guarantee the use of the Archery Games tables for your group during your session and for 30 minutes after your game, as other groups may require use of the space.
Food and beverages are prohibited from entering the archery field of play. We have light snack and non-alcoholic beverages available for purchase at the facility.